RESPONSIBLE INVESTMENT
The Trustees have a responsibility on behalf of the Beneficiaries to ensure funds received are invested wisely and securely to ensure long-term stable revenues for the Tahltan Nation. The capital must be protected and allowed to grow, while enabling measured distributions. The Trustees have hired an investment firm to manage the portfolio.
TRUST MANAGEMENT PARAMETERS
No per capita distribution
Funds managed by Trustees
Spending power of the investment capital must be preserved
Prudent long-term investment rules
Distributions for education, training, capacity development, housing, health, education and economic development
The principle and its spending power will be protected to ensure equal or greater value for future generations.
INVESTMENT STRATEGY
The funds are invested in a moderate portfolio to control risk and maximize growth, with half in equities for growth and half in fixed income/cash for safety. The portfolio is a mixture of dividend stocks, bonds, guaranteed investment certificates.
$250K
2007
Novagold
Investment
$1.1M
in
Distributions
Since 2016
DISTRIBUTION HISTORY
There were limited distributions during the first 11 years because the Trust fund was small and earned very little income, as well as to help foster growth of the Trust fund. The first distribution of $100,000 was made in 2016 to establish a Tahltan Education Fund (to be managed by the Tahltan Central Government) for Tahltan members to access. Subsequent distributions include $100,000 in 2018, $200,000 in 2020, $510,000 in 2021 and $1.8 million for 2023 to the Tahltan Central Government Education Fund. This priority and distribution method was approved by the Tahltan membership through resolutions at annual general assemblies. An annual distribution has been approved for the next three years (2024-2026) and will be directed to the Tahltan Education Fund until the Tahltan government engages membership to discuss new or additional priorities.
DISTRIBUTION FORMULA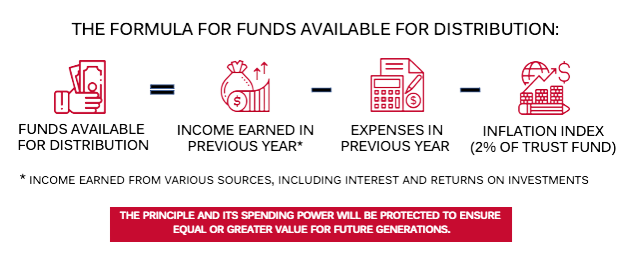 COAST MOUNTAIN HYDRO INVESTMENT
In July 2019, funds from the Trust were used to purchase 5% (from Axium and Manulife) of the Coast Mountain Hydro Projects (formerly Northwest British Columbia Hydro Electric Facilities, which comprise the Forrest Kerr, McLymont Creek and Volcano Creek run-of-river projects), on behalf of the Tahltan Nation. These investments produce income for distribution but do not create any liability for the Trust in the unlikely event the projects incur a loss. This built on a previous $2 million investment the Trust had made in Volcano Creek, where the Trust invested $500,000 of its own money, which was supplemented with a grant of $1.5 million from the Province of British Columbia's Green Energy Program.